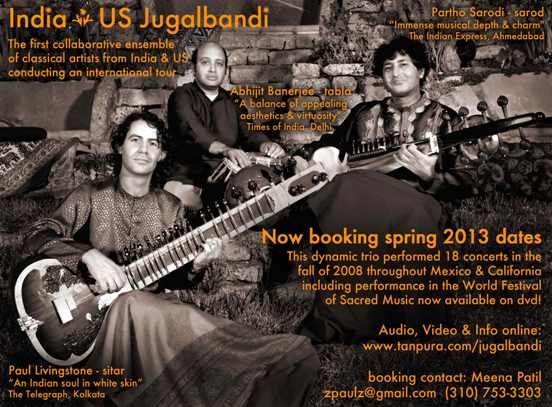 India/US Jugalbandi Artist bios

Partho Sarodi ~ sarod
Paul Livingstone ~ sitar
Abhijit Banerjee ~ tabla

This trio of sitar, sarod and tabla is the first India/USA ensemble of Hindustani classical music to conduct an international tour. As disciples of the legendary 'godfather of world music' Pt. Ravi Shankar, Partho & Paul perform ragas in the tradition of the Maihar Gharana. Abhijit's accompaniment rounds out the ensemble, one of India's leading tabla players. Members of the trio have played in all major music festivals in India and have toured throughout Europe, North America, Latin America & Asia. Collectively they have performed on more than 50 cd recordings of classical Indian and creative world music with a diverse array of virtuoso artists from around the world.

Partho Sarodi is one of the finest classical musicians from India. His music embodies the true heritage of Hindustani raga music. His virtuosity on the sarod makes his exploration of ragas an exercise in harmony, tranquility and his serious meditative approach makes his music literally soar to unscaled height of fulfillment. Partho started his musical training under his father who was a disciple of Pandit Radhika Mohan Moitra
Partho then took lessons for nearly a decade from Ustad Dhyanesh Khan- son and disciple of the legendary Sarod maestro Ustad Ali Akbar Khan. Since 1980, Partho has been under the direct guidance of Bharat Ratna Pandit Ravi Shankar, India's greatest musician. With this long and very illustrious training under these great gurus coupled with an inherent protean creative sensibility, Partho Sarathy's music is truly a symphony in serenity. Born in 1960, Partho is based on Calcutta, the cultural mecca of India. He has been performing for the last 30 years in India and all over the world. He regularly performs in Europe and the U.S.A every year. In India, he has given concerts at all the major music festivals like Dover Lane in Calcutta, the Savai Gandharva festival in Pune, Music academy festival in Chennai, Royal Albert hall in London, Cremlin in Moscow and numerous other places in India and abroad.

For more info visit: www.parthosarodi.com





Paul Livingstone has studied sitar rigorously for the past 22 years in India & US. A disciple of the living legend Pt. Ravi Shankar, Paul is also a composer and educator and has performed around the US, Europe, Latin America, South East Asia & India on sitar and unique fretless guitars of his own design. Paul began his studies of Hindustani music at the age of 15 in Mussoorie, and has also learned from Amiya Dasgupta & Rajeev Taranath. In his 2008 spring Tour in India he was recognized as "an Indian soul in white skin".
Paul has received numerous awards, grants and fellowships for musical innovation and education in Los Angeles. He has played and recorded with a number of world music, jazz & popular artists including Swapan Chaudhuri, John Bergamo, Geetha Bennett, Ravi Kiran, Glen Velez, Pedro Eustache, Kenny Burrell, Wadada Leo Smith, Miroslav Tadic, Jagan Ramamoorty, Abhijit Banerjee, the Liän Ensemble, Ozomatli & Alanis Morissette. He composes creative world music for his group Arohi Ensemble and for film, television & live theater. Paul's has self produced 3 of his own cds, was on the faculty of Cal Arts for 5 years and is the Founder & Artistic Director of the Sangeet School of World Music in North East Los Angeles.

For more info visit: www.tanpura.com



Abhijit Banerjee is one of the most sought after creative artists in the realm of Indian classical music. With 20 years of professional experience Abhijit has crafted a unique style and creative approach which has brought him accolades and awards from all over the world for his sensitivity, skill and deep sense of musicality. Apart from his contributions to Indian music he has left his mark in a diverse field of crossover music both as a performer and composer. Abhijit has accompanied nearly all the top ranking luminaries of Indian classical music including Pt.Ravi Shankar, late Pt.Nikhil Banerjee, Begum Parweena Sultana, Pt.Jasraj, Pt Shiv Kumar Sharma, Dr. Balamurali Krishnan to name a few. As a tabla soloist he has also made his mark in numerous performances and recordings in India & abroad.

He has performed for all of the major classical music festivals in India . and touring extensively in USA , Canada , U.K. , Europe , Japan , Australia , South Africa , South East Asia and Mexico giving concerts, conducting workshops in the universities. International performances of note include Lincoln Center, Carnegie Hall, Gevant Haus in Germany , Paleis in Brussels , Theatre de la Ville & Radio France in Paris , South Bank, U.K. & Granada Festival of Music in Spain.

For more info visit: www.abhijitbanerjee.com


Grass Valley Center for the Arts