In memoriam of our legendary guru,
maestro and visionary Pandit Ravi Shankar
As Gandhi was for us in the high ground of the moral universe and Tagore was in the realms of exquisite poetic imagery and song, Ravi Shankar was for the sublime and effervescent abstraction of music! Panditji's art was a reflection of the world around him, deep and rich, full of wonder, quiet, still and timeless as if communicating from an ancient era long forgotten. Simultaneously, the sound is still so fresh and alive, pulsing, dancing and bubbling over with joyous playful abandon.
An approach sophisticated and complex, yet profoundly simple in its impact on the psyche. With uncompromising adherence to the highest standards of classical raga purity, yet he was highly innovative, always creative and different every time. Expanding the limits of technique and skillfulness at the same time full of emotional soulfulness. A complete music which through it all he exuded love... Love for life. Love for others and Love for God.
Jai guru, we miss you! Our KPFK tribute from December is online here opening with a sound collage of Raviji's music and voice relating the spiritual context of raga music.
Ravi Shankar Tribute, part One (a classical legacy)
A look at some of the lesser known facts and musical achievements
of Ravi's colorful artistic life.

Part One on Raviji's legacy as a classical artist and ambassador
of classical raga music worldwide.

Part Two (upcoming) will focus of Raviji's innovatoions in the field
of east/west crossover and world music.
When I was 12 years old I found a record of Ravi Shankar, which my parents owned but had never played for me.I had heard the sitar in the Beatles music so I was intrigued and put Ravi's music onto the turntable to listen right away.I remember the psychedelic album cover and each track, though I've since lost the vinyl.Raviji had played Raga Desh, Raga Abhogi and there was a magnificent tabla solo in jhaptal by the late great Ustad Allah Rakha.

I remember closing my eyes and becoming completely immersed in the music.Though I had no understanding of what was happening technically, I had a truly transcendent experience that day.Listening to this amazing music on big late seventies headphones with my eyes closed, I had the experience of bathing under a waterfall of music.Though I had never listened to music with track lengths of 15-25 minutes before, somehow this 'other worldly' music completely captivated this American kid.
From that moment I was obsessed with wanting to play sitar.It wasn't until I went to school in India at the age of 15 that I was finally able to study sitar and tabla from my first teacher Mr. Ajit Singh.Subsequently,I went to college at Cal Arts majoring in Indian Music under Amiya Dasgupta, a direct 50-year disciple of Ravi Shankar. Amiyaji sadly passed away in 1996, and I was continuing my studies with a leading sarod disciple of Ustad Ali Akbar Khan, Rajeev Taranath. Rajeevji had come to Los Angeles to replace Amiya's position at Cal Arts and it was as that I met Raviji.
I went backstage at Ravi's 75th birthday concert produced by the Music Circle in Pasadena and managed to introduce myself in the green room as a long time student of Amiya's.Raviji immediately looked me in the eyes and told me I was part of their family and invited me the following week to his home in San Diego to continue my talim (studies) with him.
A touching detail I will never forget is that when I told Ravi, that I had begun to learn from Rajeev, Raviji unbeknownst to me had the class and respect to ask Rajeevji (a junior artist to him, who Raviji actually taught himself at several points in the past) if it would be ok to teach me!?! This was the beginning of beautiful relationship with guruji and I had the great honor of accompanying him on several tours and learning whenever he could find time over the next 15 years.
Aside from all the well-recognized accolades he has received throughout his life, I want to express my sincere gratitude for Raviji's dedication and generosity as a committed and exacting teacher of this living tradition.For this he has been an inspiration for me, not only as a performer and composer, but also as a teacher of this music, through which his presence, dynamism and tenacity have been an example of the highest order.
Ravi, an icon of creative music and ambassador of Indian culture to the world turns 90 years young on April 7th. Our Los Angeles based 'Arohi Ensemble' is releasing the joyous and exuberant 'Tilak Shyam' in celebration of this auspicious birthday.Composed for an east/west Indian chamber ensemble, the newest Arohi release features a dynamic collaboration of virtuoso artists from India and America. This newly recorded work is based off of a raga which guruji created in 1954.

This five-movement suite follows the traditional sequence of raga development through the stages of alaap (meditation), jor (pulse), madya laya (medium tempo), drut (fast laya) & jhala (climax). The piece features new arrangements, orchestration, and improvisations by all six artists; four of Ravi's direct disciples, including sarod player Partho Sarothy, sitarist Paul Livingstone, bansuri player Pedro Eustache and cellist Barry Phillips, along with two of the leading percussionists of India, Abhijit Banerjee on tabla and Somnath Roy on ghatum. This new music 'Tilak Shyam' is deeply indebted to the maestro and dedicated to the on going legacy of his musical dialogue between east and west, which he tirelessly pioneered over the lifetime of his colorful career.

The masetro's prolific output of creative excellence across borders, traditions and idioms have earned him perhaps his most appropriate title, christened by his dear friend, the late George Harrison, as 'the Godfather of World Music'. His lifelong pursuit of international collaboration persistently continued even in the face of intense criticism from his home country of India. Raviji's mark has stood the test of time for a number of reasons.Apart from all his innovations in music, the sitar itself and a myriad of successful contemporary explorations, his dedication as a master performer and as a teacher of the ancient raga forms have always been at the forefront of his artistic vision. It is openly recognized by Indian classical musicians across a spectrum of gharanas (styles) that his ragdar (purity of raga), is of the highest order.
The fact that he never lost sight of his foundation and maintained the highest degree of classicism reflects his deep concern for the longevity and relevance of the music to the younger generation.The extraordinary achievements of his own daughter Anoushka, (a brilliant artist in her own right) are additional testament to this commitment.As a friend since her mid teenage years, I will never forget the mental capacity and flawless photographic musical memory Anoushka demonstrated in our lessons together as she would spit back complex taans (melodic runs) and intricate tehais (rhythmic cadences), after hearing them just once from guruji.

Raga Tilak Shyam is one of the many raga creations of the maestro.Much more than just a composition, the creation of a raga entails the construction of an entire melodic structure with formal guidelines and phraseologies unique to itself.Once a raga is established, there are infinite possibilities for creative exploration and literally thousands of compositions may be realized within its framework.As a composite raga, it utilizes concrete elements from both Raga Tilak Kamod and Raga Shyam Kalyan, two traditional evening ragas, which when combined, give l ife to an entirely new sonic universe.The nomenclature of Raga Tilak Shyam references these two traditional ragas.It is through the creative genius of master artists like Panditji, that new ragas are created.
It is with great humility and honor that we step into these forms which have enlarged the palette of our music.Through the inspiration of Raviji, we have been empowered to take fresh approaches in composing and arranging creative new music, as well as honing the practice of improvisation, which sparks at the heart of our classical music.I thank God for an opportunity to do my small part in this ocean of music.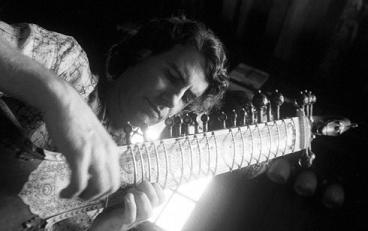 Paul Z Livingstone is an international performing artist, composer
(film, television, dance & theater), an active educator, producer & community activist with diverse experience with classical raga music, jazz, pop & world crossover to his record. Paul's own contemporary music is grounded in the rich aesthetics of Indian music and embraces seemingly disparate global elements in a commitment to a compelling cross-cultural sound that reflects his innermost social, political and spiritual values.